Increasingly, customers make their decisions about which companies and organizations to support based on how the organization incorporates ethics into their business decisions. From meat to coffee, shoes to phone cases, consumers are considering more than ever the positive impact (or lack thereof) their favorite companies are making.
A study by Nielsen recently found that 73% of millennials are willing to pay more for sustainable offerings. Another study on corporate responsibility completed by Aflac found that 75% of consumers will take some kind of negative action if they believe a company is acting socially, environmentally or politically irresponsible.
It's important to understand the modern consumer's expectations for ethical issues so you can continue speaking to and meeting your customers' interests and needs. Let's explore ethical marketing, ethical marketing strategy, examples of companies excelling with ethical business practices and how you'll benefit from similar marketing efforts.
What is Ethical Marketing?
Ethical marketing refers to a technique many companies use to communicate their core values. MasterClass defines the term this way: "Ethical marketing is a technique that highlights a company's values—honesty, transparency, responsibility, or adherences to fair trade principles—as promotional strategy."
Companies that market ethics are still making a profit—they simply incorporate the best parts of their business practices into their marketing tactics.
On the flip side, unethical marketing can use techniques such as misleading claims, scare tactics and even outright slander or false claims to reach consumers. If your goal is to build a strong reputation as a brand that can be trusted and that cares about doing good in the world, these practices should be avoided at all costs.
How to Practice Ethical Marketing
Let's get down to how you can practice ethical marketing.
WisePops created a fantastic graphic that explains five important principles of the ethical marketing process. Let's break them down along with examples of ethical marketing practices below.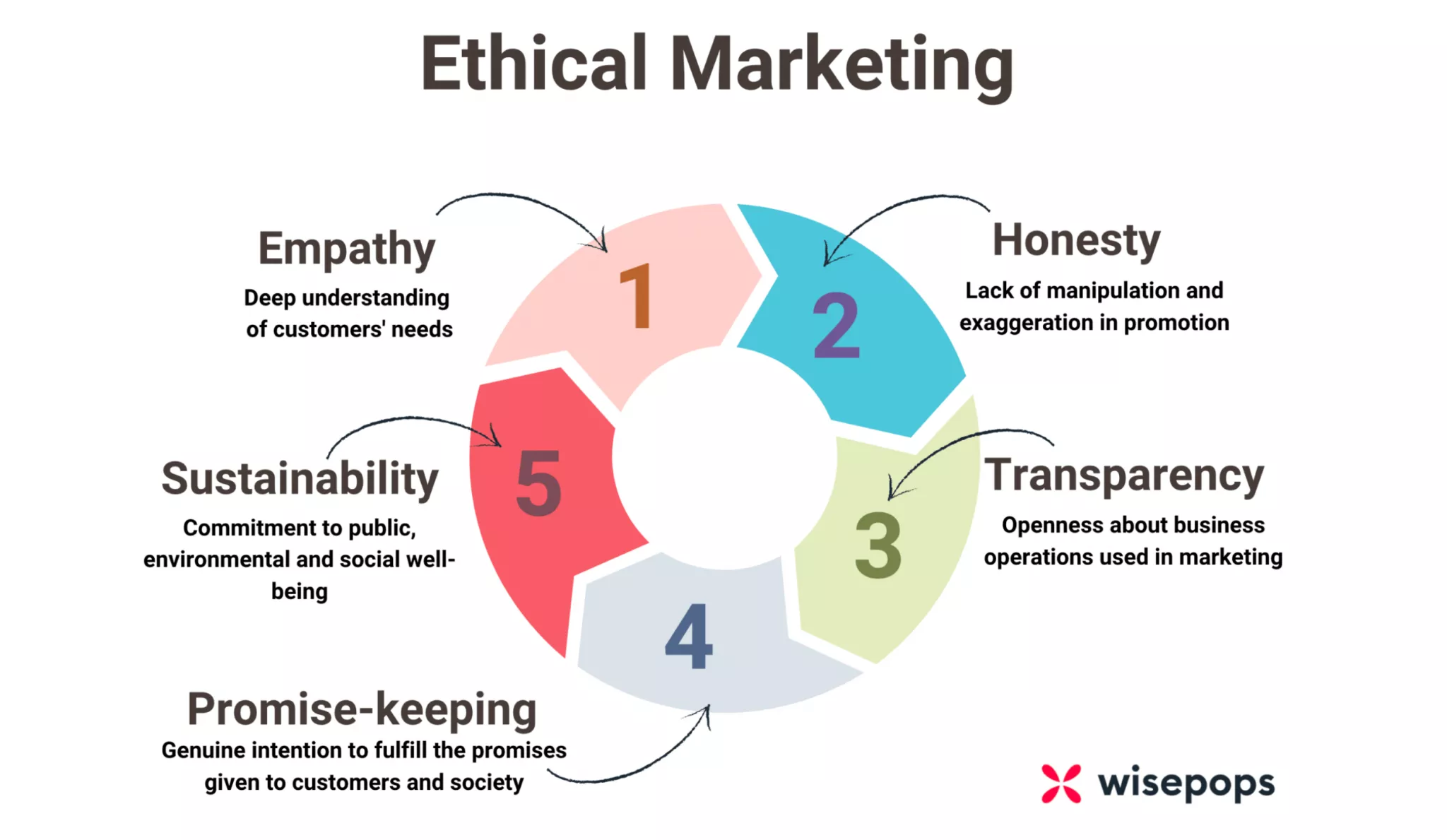 Empathy
Empathy has long been used as a way to connect with any given target market and achieve business growth. As WisePop explains it in the graphic above, using empathy in ethical marketing means communicating a deep understanding of customers' needs. You understand their problem/the shoes they're walking in/the problems they're facing — AND, you are genuinely trying to help meet a need with a quality product or service—that's amazing! However, empathy as a tactic in the wrong hands can cross over into manipulative, unethical marketing. It's important to make sure at the heart of your use of empathy as a marketing technique you keep the customer's best interest in mind.
Example: DOVE'S Real Beauty Campaigns
DOVE's Real Beauty campaigns are a great example of a company using empathy to connect with consumers. The company has made a name for itself in recent decades for many marketing campaigns about the real beauty of women. Their ads connect with women by talking about the pressures women feel to be a certain size, shape, etc. They often do this by centering real women in their marketing materials. Their approach has no doubt built long term relationships with many customers.
Honesty
Honesty can be a simple yet powerful trait of a company's brand values. Using honesty as a cornerstone of your business model will include conveying the truth about your practices, your products and your goals in your marketing materials and communications efforts.
Using honesty in your ethical marketing will surprise consumers, communicate trustworthiness and show your confidence.
Example: Able Publishes Their Lowest Wages
The fashion company ABLE has made strides opening the door for the fashion industry to be more honest about every aspect of their business. On their website ABLE publishes details about who works for their company from one end of the supply chain to the other, how they support their partners and creators, what they do to decrease their impact on the environment and details about company wages.
Transparency
Next, transparency will involve being open about your business operations in marketing materials. This may include the details of a products' ingredients, cost of materials, information on the factories where products are made and more.
Example: Everlane Breaking Down Costs of Products
On their website Everlane state, "Cleaning up this industry is messy work, but we're ready for it." As part of their ethical behavior, Everlane publishes transparent pricing for every product sold on their website.
Here's an example with their ReNew Long Liner jacket.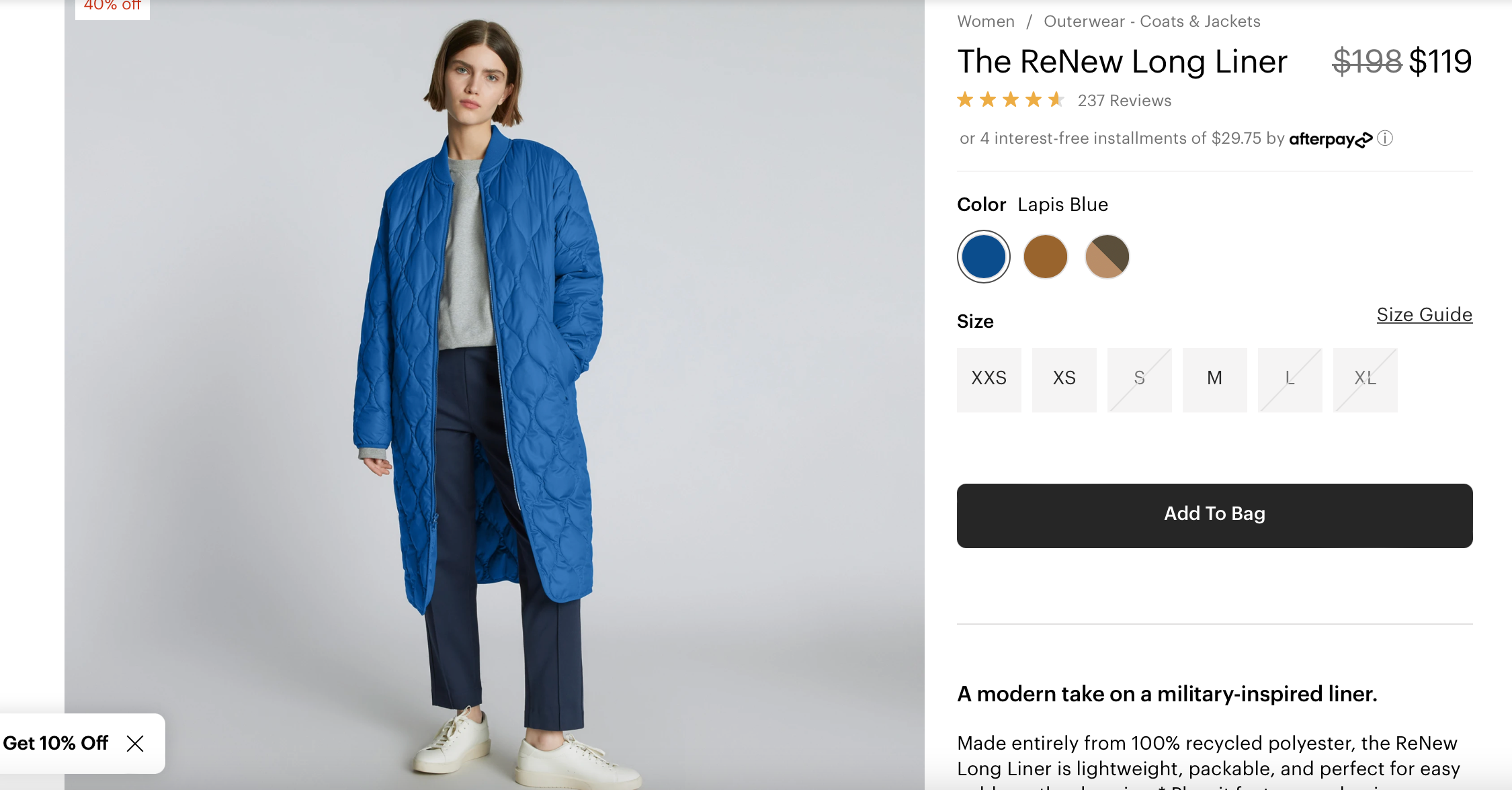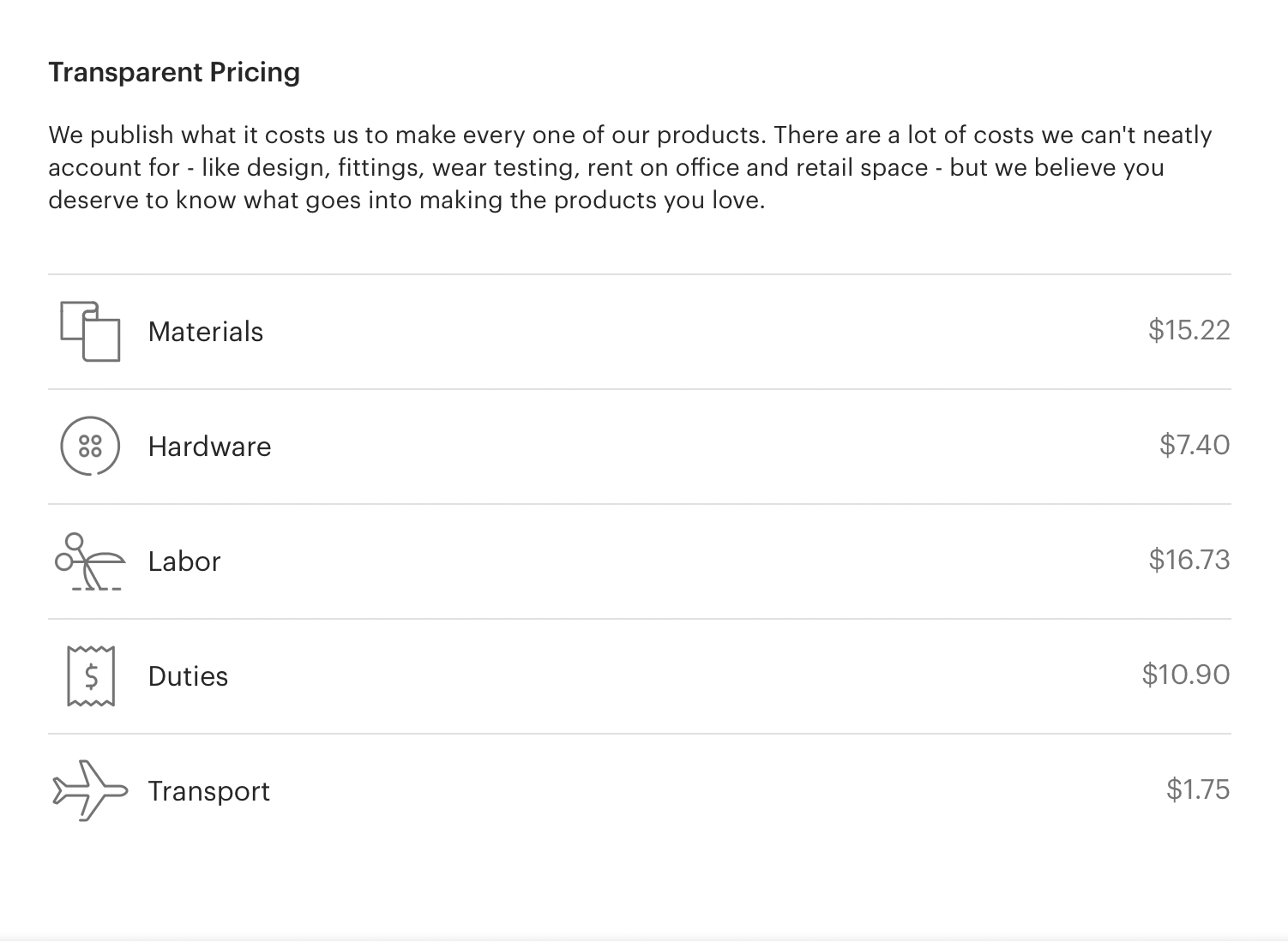 Promise Keeping
To make promise keeping a part of your ethical marketing means you have a genuine intention to fulfill the promises made to customers and the public.
Example: TOMS Shoes and their One-for-One Model
Toms Shoes made a name for itself in the early 2000s with their bold promise of "you buy a pair of shoes, we'll give a pair away." For years, this one-for-one promise was a cornerstone of their marketing.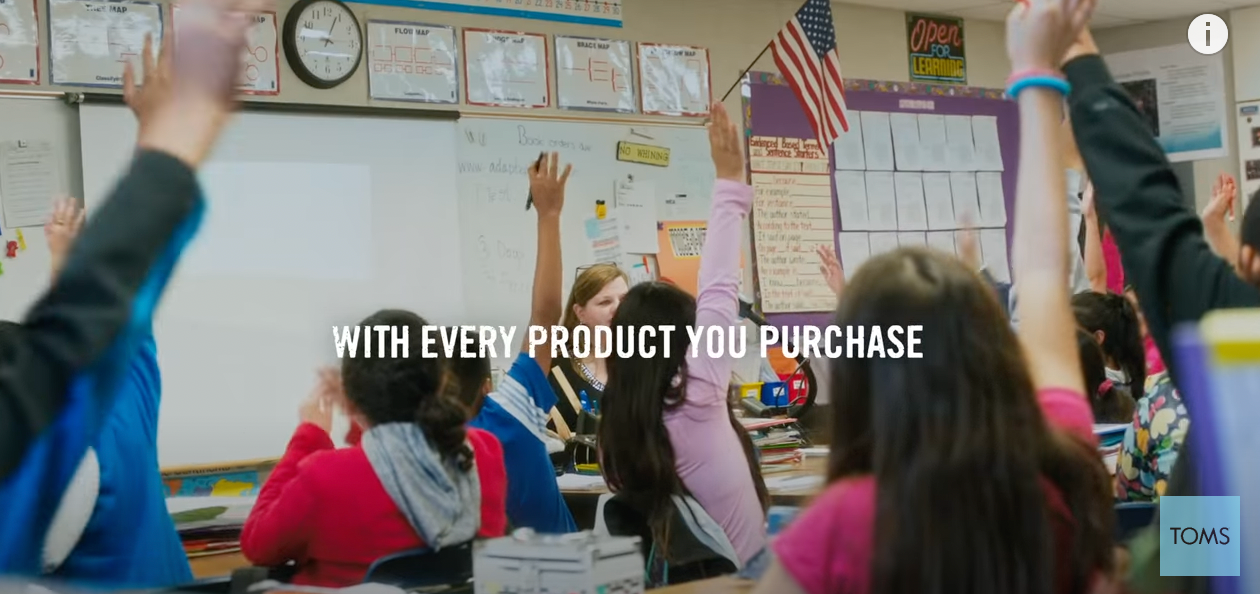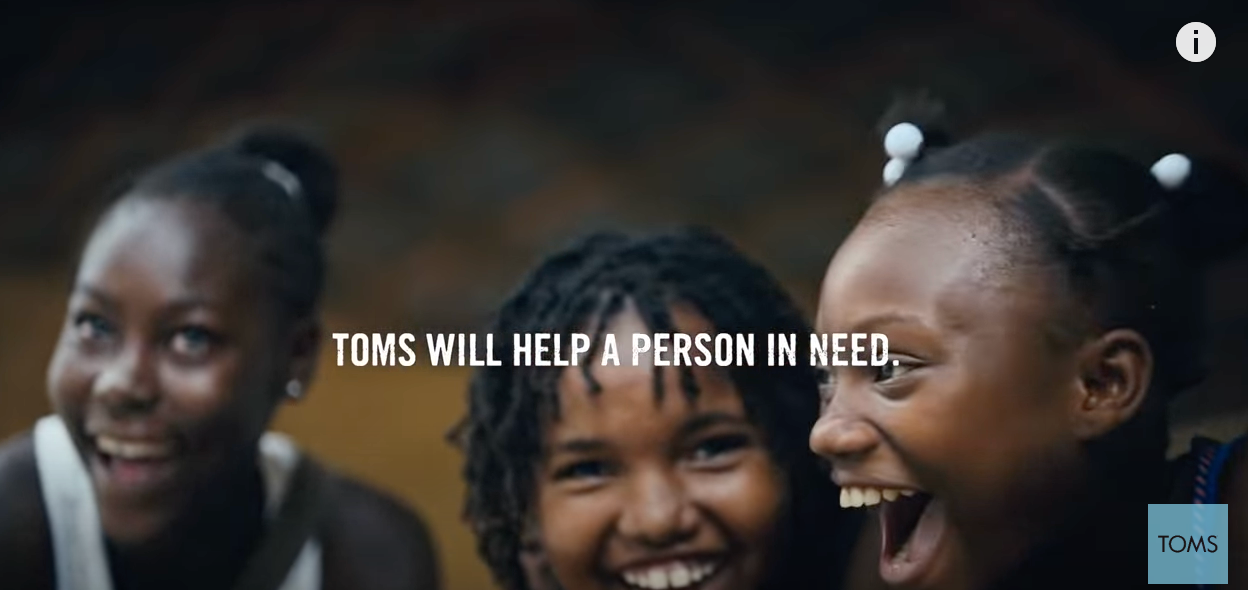 By the end of 2019 the company tallied 95 millions pairs of shoes given away.
In November 2019 the company announced that they were moving away from their one-for-one model so they could expand the scope of their charitable impact. Their promise to continue serving communities is shown in detail on their website and in annual reports published on their website.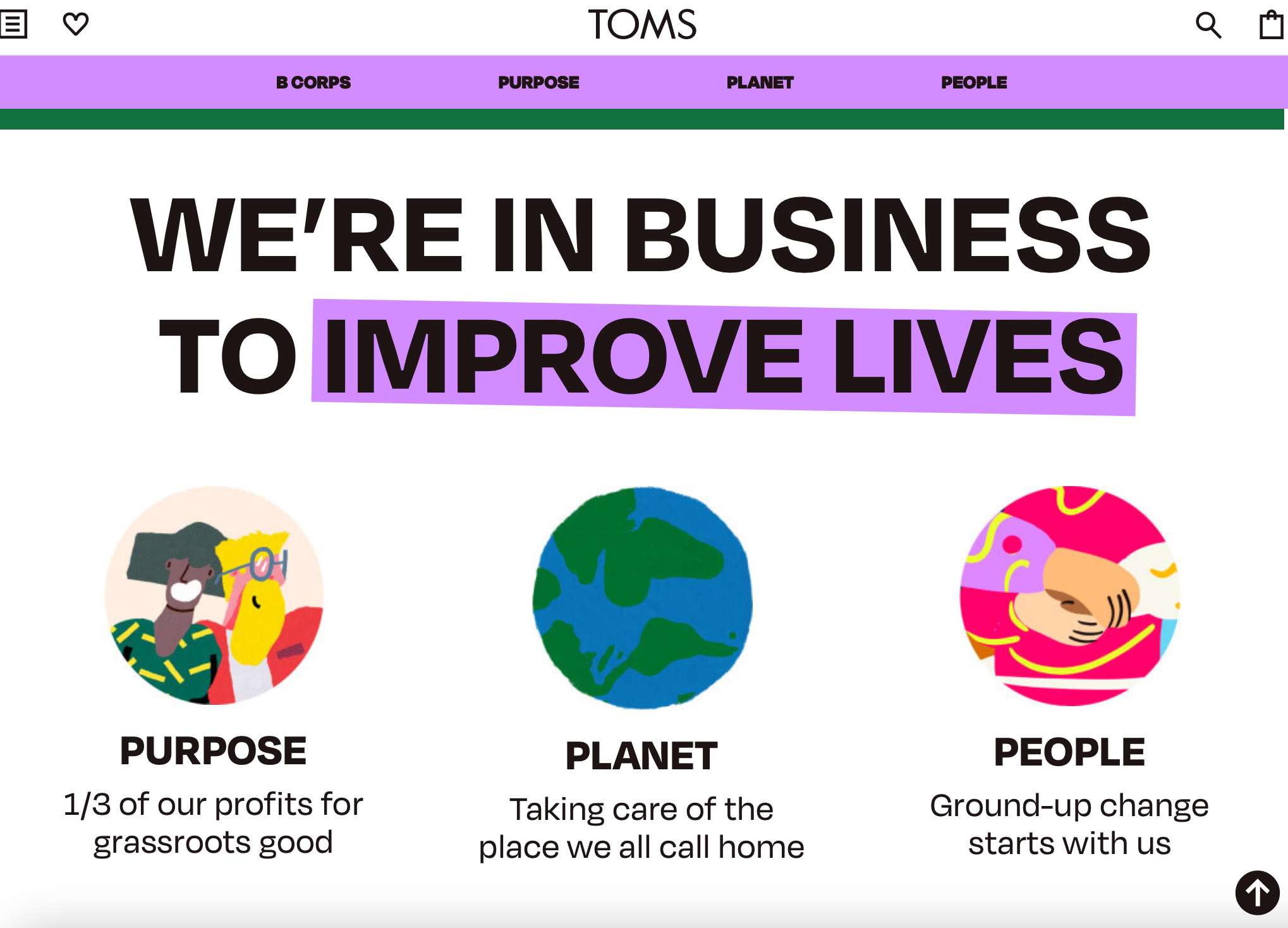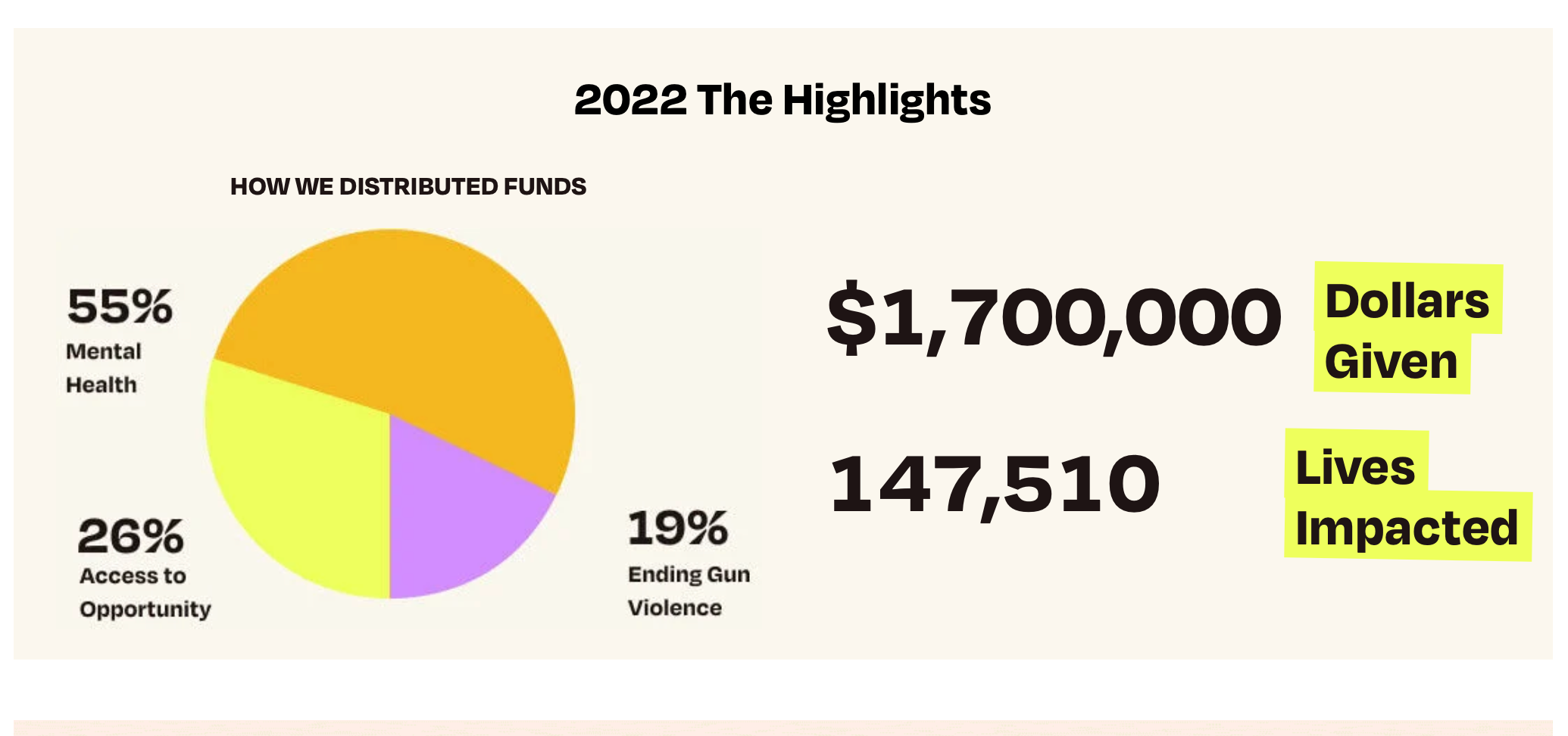 Sustainability
Adding sustainability to your marketing ethics means highlighting your commitment to public, environmental and social well being. With ever-increasing conversations about climate change and the environmental impact of large companies, consumers are very interested in how brands are taking responsibility for their impact on the climate.
There are a number of companies using sustainability as a cornerstone of their marketing. Let's look at the following examples to learn more.
Conscious Coffees
Conscious Coffees is an example of a brand using their socially conscious practices to impact lives and reshape the coffee industry.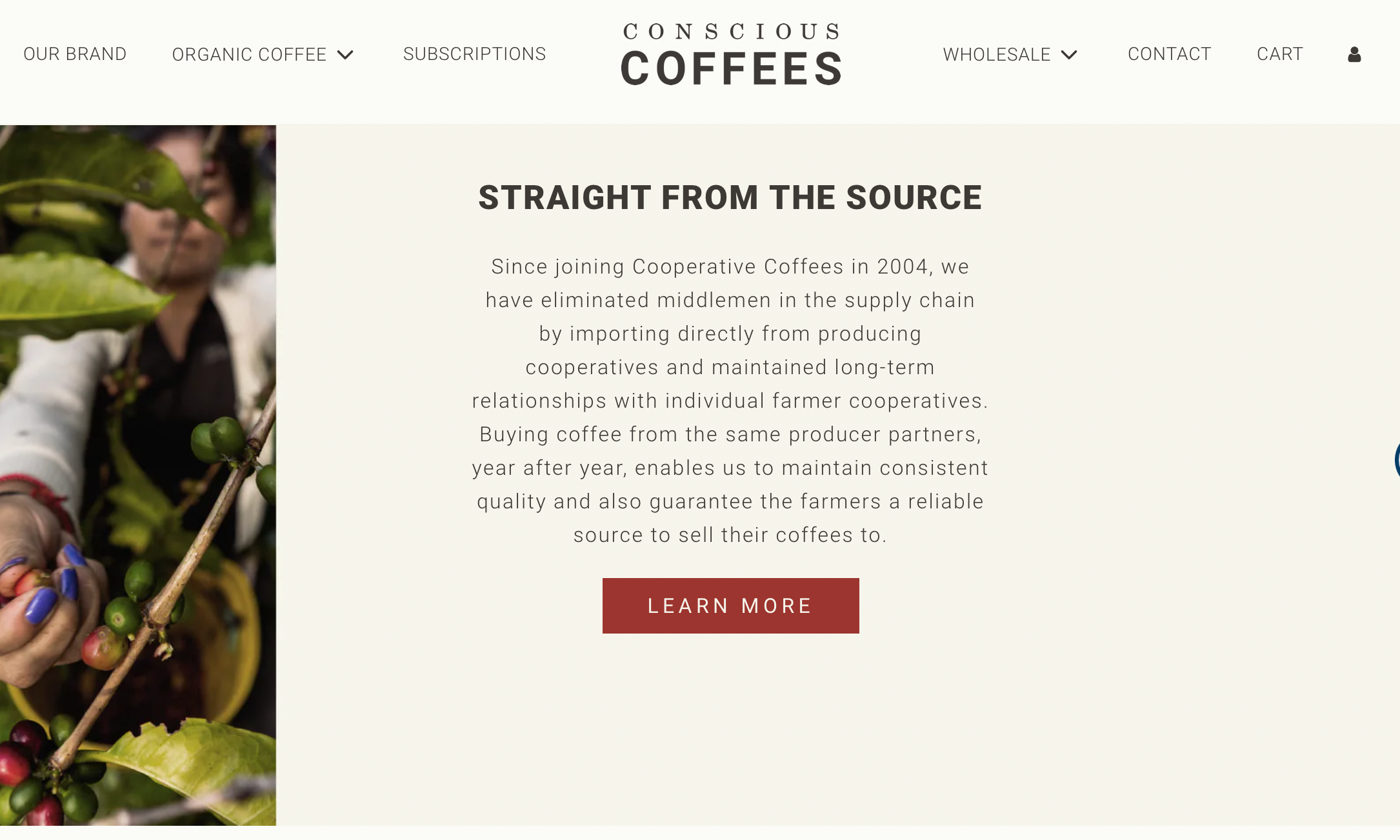 Highlighted in their marketing are their organic farming and beyond fair trade economic practices. The company makes sure to talk about how they care about the long-term success of their farming partners and their partners' farming land.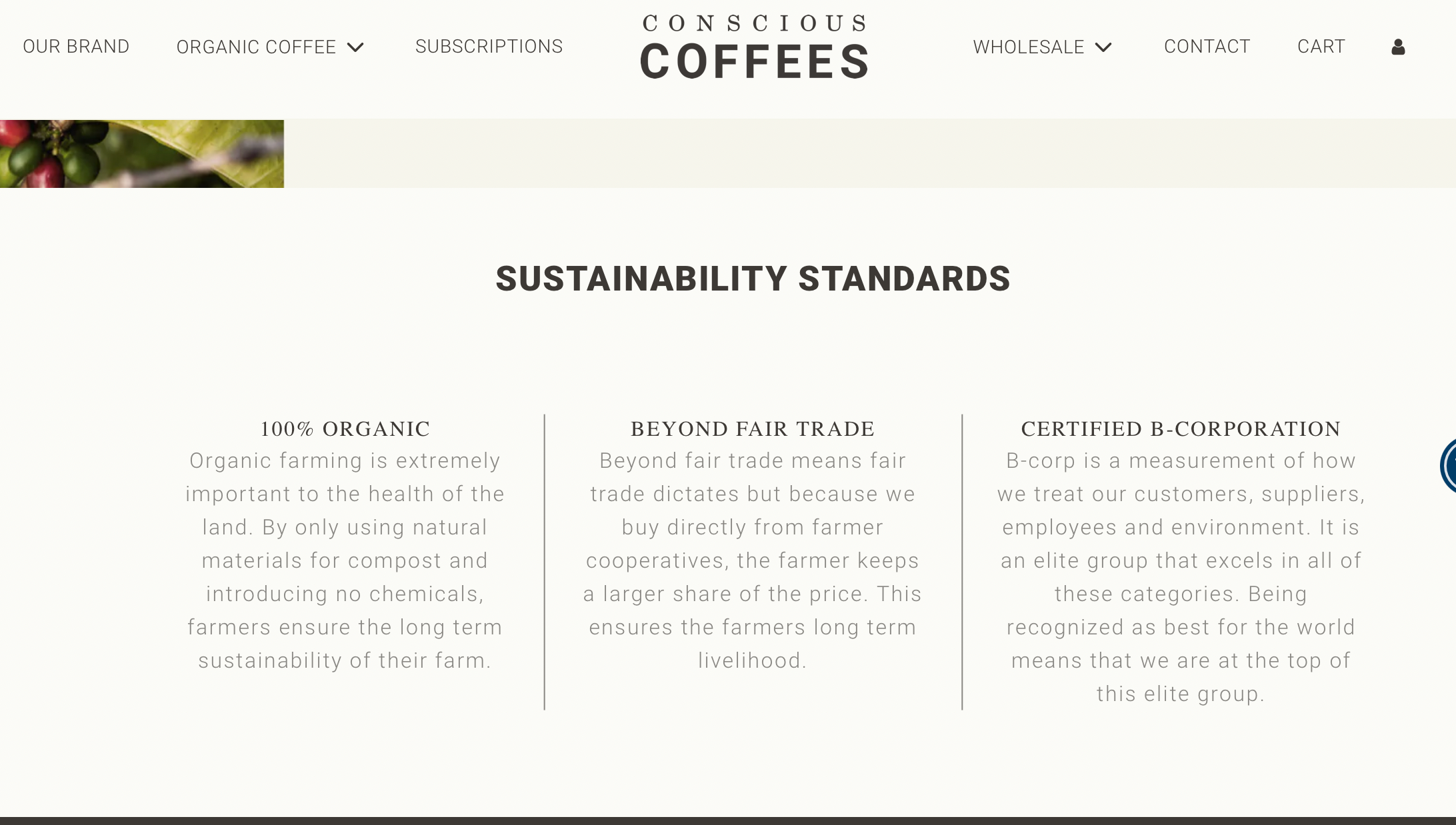 Example: Rothy's
As stated on Rothy's website, "Behind every Rothy's product is the innovative use of recycled, bio-based and transformed materials, from the single-use bottles made into our signature thread to algae-based foams, natural rubber, hemp fiber, and the marine plastic collected from land within 30 miles of coastlines and waterways." Their marketing includes full explanations of how they reuse plastic to create their products.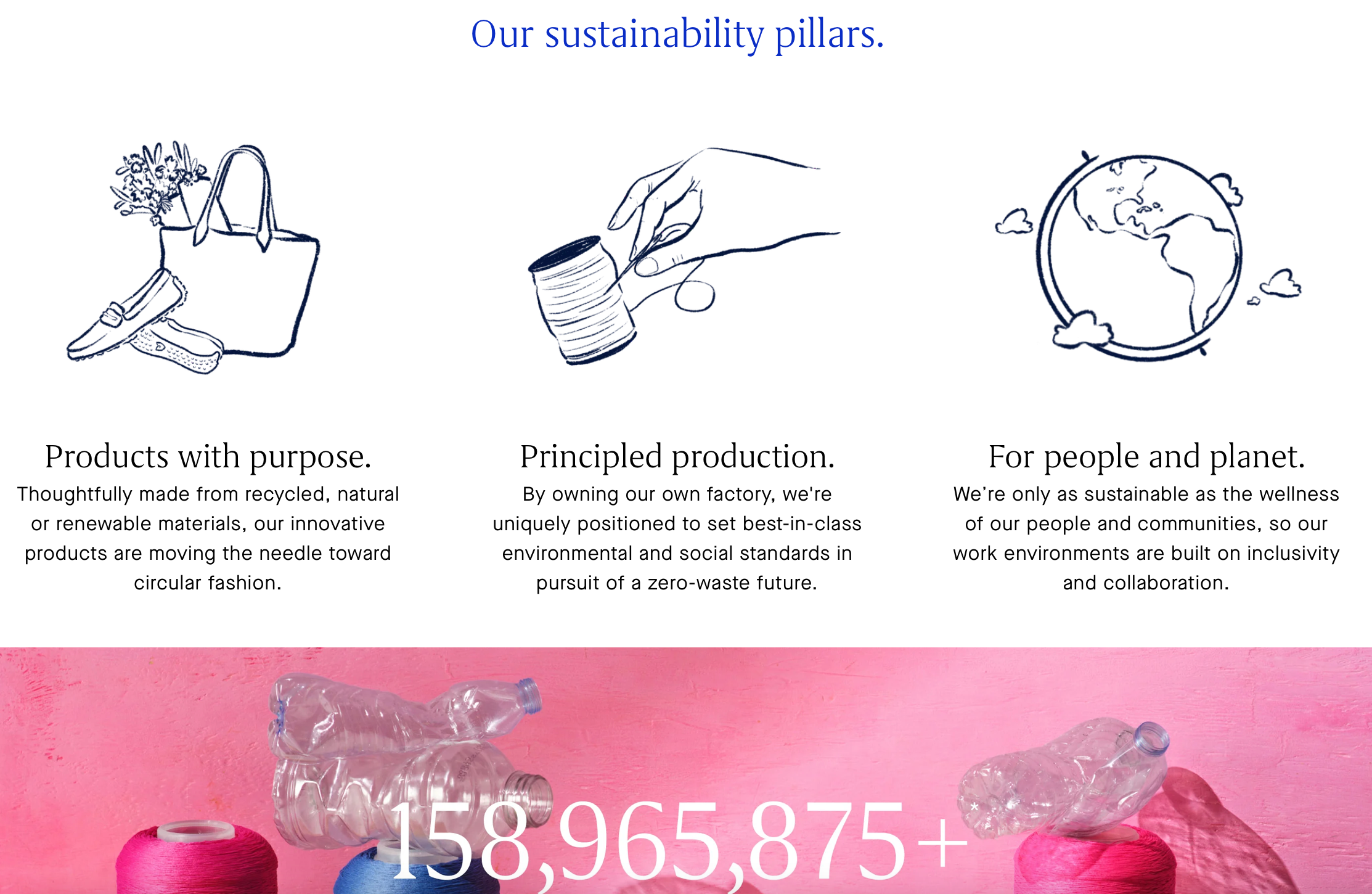 Prominently highlighted on Rothy's website are specifics of how they are working to impact the environment for good, including how many pounds of "ocean-bound marine plastic" they've collected.

Now that we have explored aspects of ethical marketing, let's talk about a few ways ethical marketing can strengthen your company's brand and sales.
5 Ways Your Company Can Benefit from Marketing Your Ethical Principles
Better Communicate Your ValuesAs you've seen from the examples above, ethical marketing is an opportunity to really share what you stand for and believe in. Read more about how to make a bold statement with your brand development process here.
Build Trust With CustomersProving to your customers that you are who you say you are and you do what you say you do will create long time loyal customers. People appreciate, respect and support companies they trust.
Impact Your Industry for the BetterAs you can see from the examples of Rothy's, ABLE and Everlane, your ethical practices and the marketing of said ethical practices can create change in your industry. As more companies are vocal about the good they do in the world, other companies will be encouraged to follow in your footsteps.
Bring New Customers to Your BrandAs we've mentioned in stats above, younger consumers are looking for companies who care. By sharing your ethics in a marketing campaign, you will very likely catch the eye of millennial and GenZ consumers who are looking for companies they can believe in and trust.Extra: Ever wondered what the difference really is between the terms brand and brand strategy? Read our explanation here.
Do Good in the WorldAt the end of the day, who doesn't want to do some good in the world? Ethical marketing can only come from real-life ethical practices. No matter the area of business you are in, there is a way that you can make a positive impact. The world needs all the bright lights it can, so go ahead and shine.P.S. To learn about how to highlight your ethical marketing in PR talking points, read our tips here.
Let's Create Your Ethical Marketing Strategy
If you are ready to step out of a gray area and use ethical marketing to raise the profile of your company, the J.O. team is here to help. People are looking for businesses to own up to their corporate social responsibility and we can help you stand out as an ethical brand. Reach our team by filling out the J.O. contact form or calling 817-335-0100.